Firstly, don't be ashamed if you have been infested with Bed Bugs in your home! It can happen to any of us, whether at an individual's residence, a five-star hotel or even on a mid-air flight, bedbugs can strike. That's why Pest2Kill are here to provide an expert termination, Bed Bug Removal and effective pest control service.
What are Bed Bugs?
Bed bugs are small blood sucking insects, which can infest the cracks and crevices in and around the area that you sleep. Crawling out of their hiding places at night, biting your exposed skin and feeding on your blood.Adult bed bugs are oval shaped, can be dark yellow, red or brown in colour growing up to 5/6mm in length.  With bed bugs breeding very quickly, reaching adulthood within one month and an average bed bug living a couple of years, left untreated an infestation could quickly escalate.
Pest Controllers have found that call out for bed bugs have more than doubled through-out London and Essex, since late last summer bed bugs are on the rampage through client's homes.  With pests often crawling into people's rucksacks and luggage, a suntan is not all you could come home with from your holidays!
Pest2kill Pest Control Experts know that bed bugs in London and Essex areas are causing a problem and prevention is the best way to avoid an infestation in your home: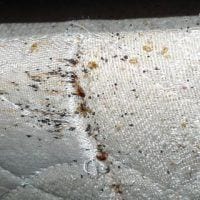 Don't let the Bed Bugs Bite! How to spot bedbugs:
Despite their name, bed bugs can infest any part of your home, they are mainly found in mattresses, bed divans, bedding and carpets but check all areas of your home for infestation.
Tiny black dots on your bed sheets/mattress could be signs of bed bugs (droppings)
Discarded mottled shells as they shed their skin through their growth life cycle
Unpleasant musty smell in your room
Tiny white eggs or small bed bugs in crevices of your bed or mattress
Small bites on your skin/blood spots on your sheet if squashed after feeding
Remember should you find a bed bug find an infestation in your home, act immediately, do not delay call the professionals to treat the invasion immediately don't let the situation get out of control.  Bed bugs can be nasty call a professional pest control service to treat the problem now.. 0207 205 2229 Pest2Kill Bed Bugs in London and Essex