PEST CONTROL ESSEX & LONDON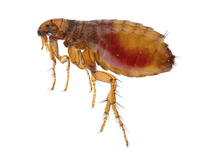 Flea Control Essex – Fleas can cause a huge embarrassment should you find them in your home or business, and can be a common problem, especially in homes with pets.
The most common flea found in our homes and businesses are cat fleas (Ctenocephalides felis), followed closely by the Dog Flea (Ctenocephalides canis). Even though more commonly found on pets, they can be carried by mice, rabbits, foxes and squirrels, their elongated legs enable them to jump easily from your animals to infest other areas of your home such as beds, carpets, sofas etc.
Fleas are parasites and even though their bites are not painful they can result in discomfort from nasty itchiness or rash. Pest2Kill offer safe and effective treatments to ensure your home or business is eradicated from the infestation.
During the visit our Pest2kill technician will carry out a "risk-assessment" checking for any hazards on the property / area and locating the source of the infestation. The technician will provide you, where possible, with further advice for preventing fleas, highlighting any factors that can improve the situation, such as: proofing, house-keeping in infested areas, identifying host animal etc.
One Visit
High Risk Areas Sprayed
Fast Effective Treatment
Fill in the form below for your free quote
Pest2Kill will undertake an in-depth assessment of your property, tracking the source of the infestation, if a host animal is identified as the source then the client would be advised to seek veterinary advice/treatment.
A residual insecticide can then be applied to the site of infestation and any areas frequented by the host.