With wasp season underway, we find that we have numerous emergency calls by homeowners who have disastrously attempted to remove a wasp nest by themselves.  Wasp nest removal DIY disasters happen all the time, often resulting in the homeowner being stung, or their property damaged, both not being a great experience!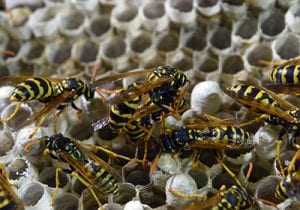 Amateur or DIY wasp nest removal is begging for disaster
You could purchase the wrong product, you forget to use protective clothing, you are likely to make a mistake, and you are likely to end up hurting yourself.
One of the biggest mistakes made is not knowing if you are allergic to wasp or bee sings, DIY wasp nest removers should beware! And should definitely steer clear of any sort of insect control.  One sting can cause a painful allergic reaction, and multiple wasp stings could land you in hospital.
Wasp Nests Leave to the Experts
Just because you have removed the wasp nest, this does not mean the wasps will leave.  A lot of people do not realise is that even after you have taken the nest down, you are still going to have wasps, and they can simply just rebuild another nest unless the nest is dealt with professionally.
If you are successful in your DIY attempt at knocking down the nest, you are still going to have to deal with the now very angry wasps, which can be the most dangerous part of the process, as this will require use of insecticides or poison.
Wasps will defend the Nest against your Attack!
Any attempt to remove the nest, will be seen as an attack by the wasps, the wasps will instinctively defend the nest and could attack you by stinging.
Even if you do not suffer from allergies to wasp stings, the pain felt from numerous stings can be extremely uncomfortable, and if you do suffer from allergies then you could risk hospitalisation.
Wasp Nest Removal is not that Simple…
Removing a wasp nest, yourself is not a straightforward task, it requires expert knowledge and preparation.  Wasps can build their nests almost anywhere, in airbrick covers, wall cavities and roof spaces. Depending on where the nest is located can make the job overly complex to access and remove.
So instead of falling victim to the next wasp nest removal DIY disaster, call in the professionals and have the wasp nest removed safely and stress free.  Pest2kill offer a professional wasp nest removal service, call now 020 7205 2229
A DIY wasp nest removal is exactly what one of our clients had, heres what they had to say….
I called Gavin at Pest2kill early evening regarding an issue of a wasp nest in the cavity wall of my house that I had disastrously tried to remove.  He visited my home the very next morning and made a very thorough inspection of the property, establishing exactly where the nest was situated.  
Gavin explained fully what he was going to do and treated the wasp nest swiftly and safely.   Gavin was so polite and helpful and put my mind at ease, as believe me I was totally terrified of wasps, would 100% recommend Pest2kill services.  I would also advise not to try this yourself, always call a professional, believe me the sting isn't pleasant!
Pest2kill is s professional pest control company covering Essex and London, our team of highly trained professionals specialise in wasp nest removal and are here to help you eradicate any wasp problem you may have.  Call us today to for further information, our London office 0207 205 2229 or our Essex office on 01708 941521.